A Life Long Collection
Recently Brian and I had the opportunity to view an amazing life time collection. It had been started when the late owner had been a small child, back in 1927, and added to over the years until his passing, just four years ago. It was clear, when viewing the collection that the owner's interest had never lapsed, but had grown in sophistication as he grew older, culminating in what I believe may have been the greatest collection of such material in private hands.
So, what was it that had held his interest, even his passion for so long? It was anything to do with pioneering pilot Charles A. Lindbergh and his plane, the Spirit of St. Louis.
The questions that arose as we viewed the collection were: does anyone still care about Lindbergh? Is there a collectors' market in today's world for such an astonishing grouping of Lindbergh memorabilia?
Brian decided that the collection was worth taking on, so I began a number of weeks of research into Lindbergh and the Spirit of St. Louis, and their famous flight.
On May 20, 1927, Lindbergh took off from Roosevelt Field in New York in his customized Ryan monoplane, loaded to the gills with gasoline, and without any radio, electronic navigation instruments, or, as many thought, much of a hope of reaching his destination. 33 hours later he landed, at Le Bourget Airfield, just outside of Paris.
It is difficult today to grasp the enormity and daring of what Lindbergh had done. In a plane less sophisticated than a Piper Cub, Lindbergh had made the first solo flight across the Atlantic—in fact, the first flight of any kind that had not stopped somewhere along the route for fuel, and to ask directions. A rough equivalent to his feat would be if your neighbor built a space ship, and took off one morning, and landed on the surface of the moon. Lindbergh did what no one else had done, did it first, did it alone in a handmade airplane, and he survived. Greater, far more famous men, better equipped, had tried it, and died in the attempt, such as the great French fighter ace and pilot Charles Nungesser, who had tried it only two weeks earlier, and died in the attempt.
One of the Little Guys
Still, given that Lindbergh was extremely brave, or at least very daring, why should collectors care today? It was, after all, over 90 years ago, and Lindbergh would later turn out to be a somewhat dubious hero, with a number of significant character flaws.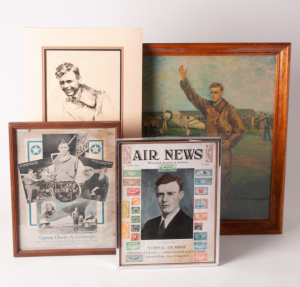 I believe that the answer is a simple one: Lindbergh was one of us. He was a normal, commonplace American, who was not a military hero, was not a sports star, and was not even particularly brilliant, and he had flown the Atlantic alone, and had landed safely in France. He had, in effect, given birth to civilian aviation, and demonstrated that all of us could fly! He caught the imagination not only of millions of Americans, but of people from around the world. People either wanted to beat him by surpassing his accomplishments, or to be him. Industries were born producing everything from Lindbergh toy airplanes, to Lindbergh perfume! People bought Lindbergh dolls, Lindbergh pictures, even Lindbergh radios. Aviation became the right of every man, woman, and child, and Lindbergh became the idol of all of them.
It is not a coincidence that soon after, commercial aviation became very popular, and surprisingly common. A great industry was born that endures today, even if there isn't enough leg room! Lindbergh also served as inspiration for other Americans to take to the sky: Had there been no Lindbergh, would there still have been Amelia Earhart?
Artifacts, Collectables and Memorabilia
The collection that we are offering is remarkable, yet it consists of what, were they not connected to Lindbergh, would be every-day items: there is a child's beanie cap, covered with Lindbergh buttons. It is from a boys' club of Lindbergh fans. Looking for a similar one online, the only other one I could find was in the Smithsonian Museum's Air and Space collection, and the one we are offering is in much better condition!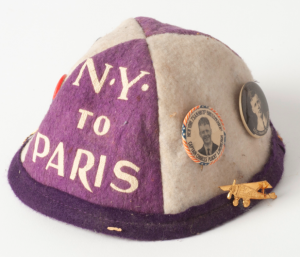 There are wonderful toy models of the Spirit of St. Louis. They range in size from ones that fit in the palm of your hand, to ones made for children to ride on!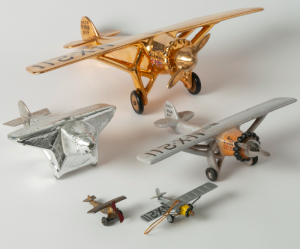 Other flyers are not left out. There is an autographed autobiography of Amelia Earhart, with a tiny record of her voice in the back, as well as signed autobiographies of World War I ace Eddie Rickenbacker, and Admiral Richard Byrd, the first man to fly over the North Pole.
Possibly my favorite item in the collection is a letter that discusses how, in World War II, Lindbergh, although a civilian, flew in the Pacific as an advisor to the Army and Navy Air Forces. The letter confirms that Lindbergh not only advised, he fought! The author discusses Lindbergh having shot down at least two Japanese fighters while on missions with the author's squadron. Adding to the interest of the letter is that it was written and signed by Joe Foss, the top-scoring USMC fighter ace of all time.
This really is an amazing collection, and it was a tremendous pleasure to work with it. Now we get to watch as this lifetime's collection is shared with aviation collectors and Lindbergh fans everywhere. Interestingly, NASA has just announced the names of the next 9 Astronauts, who will be flying us into our next steps along the path that Lindbergh helped to create.