The first time Brian Witherell saw the Bohlin saddle in the April 27 through May 11 auction was at the original Sharkey's Casino in Gardnerville, NV 20 years. One of an amazing saddle display that was a promotional draw of the casino for years, this Dick Dixon model is a fun, showy piece of Western Americana. When the original casino closed, the contents were sold at auction.
A Nevada ranch owner initially contacted Witherell's about selling a portion of his private collection and displaying the saddle at the Old West Show May 6 and 7. After considering what would be involved, the owner decided to auction the saddle and three other Western items. Originally made for "Thomas W. Hintz in Tracy, California," as is tooled on the saddle, this beautifully crafted Edward Bohlin with silver decorations comes with the Sharkey provenance and is valued at $15/25,000.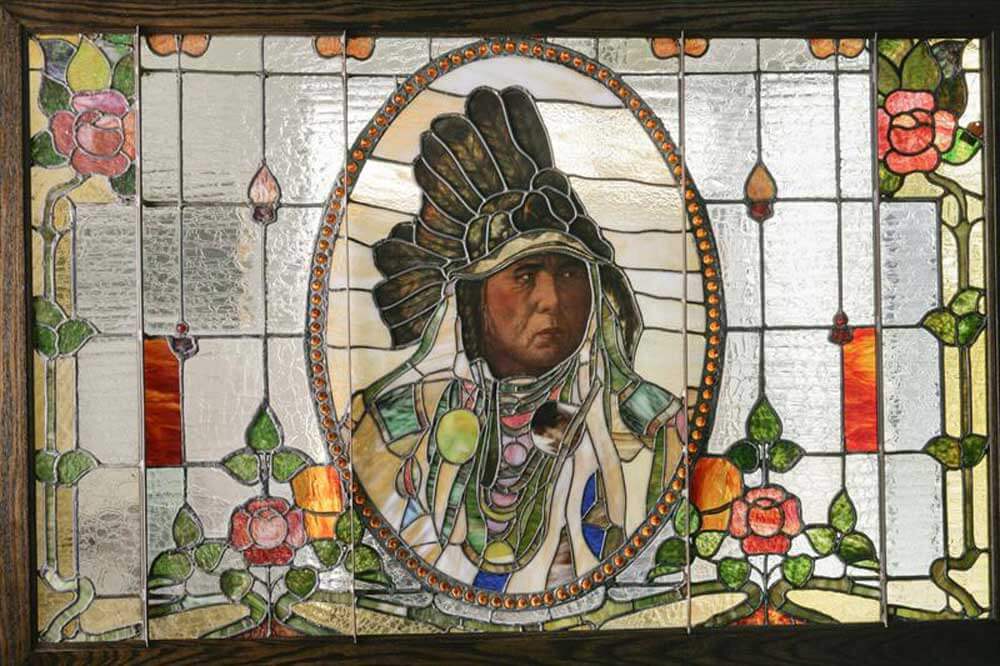 Chief Joseph Stained Glass
This large stained glass window depicts the Indian Chief Joseph, the leader of the Wallowa Nez Perce, an indigenous tribe from Oregon. Chief Joseph led the tribe in their unsuccessful resistance to the U.S. government's forceful relocation to a reservation. This became known as the Nez Perce War.
This item came to us from a friend of the family. The framed 46.5-by-72 inch glass would be beautiful in a large window. It is valued at $3/5,000.
John Sutter Silver Presentation Goblet Body
Perhaps the most historic object offered in this auction, the silver goblet body is a relic of the Gold Rush. Originally with stem and base, legend has it that the goblet was found by a metal detector at Sutter's Hock Farm, the first non-Indian settlement in Sutter County and the first large-scale agricultural operation in Northern California. Located on the Feather River, Sutter intended it for his retirement. But by the 1864-65 Gold Rush years, he could not maintain the operation due to lack of man power.
The body of the goblet is engraved "Awarded to Capt. A. Sutter the Immortal Pioneer of California; and the Illustrious Husbandman of 'Hock Farm' by his Friends Warren & Son of the Agricultural Hall Sacramento City, Oct. 1852." With wheat and floral design, the 4-by-5.5 inch goblet weighs 5 troy oz. and is valued at $1/3,000. The goblet came from the estate of Herb Caplin, founder of Sacramento's Argus Antiquarian Book Store.