When I was in my twenties, I had the opportunity to meet one of my heroes, the great science fiction writer and poet, Ray Bradbury. I had been reading his stories since I was ten, and had to spend several months in the hospital. My parents gave me a subscription to the Science Fiction Book Club, and the first thing I bought was a copy of one of his short story anthologies. I had read and re-read that book many times. The dust jacket had vanished when I was fourteen. I loaned the book to a number of my students- the spine was split, and crudely repaired with library tape. For some reason, I decided to take that old book along to have it signed when I met him.
When I got there, after addressing the crowd, and receiving a well-deserved standing ovation, he took a seat behind a folding table, and began to sign a number of brand new books. He was friendly, but kept the line moving briskly. When I got there and laid my ancient and tattered book in front of him, he stopped. He didn't say a word for a moment, but looked down at my book. Then he looked up at me, and I swear that there were tears in his eye, and he spoke to me, saying, "Thank you." He asked me when I had gotten the book, and I told him about reading it in my hospital bed, sharing it with my friends, and later on, with my students- about reading it aloud on rainy days in my classroom. He told me how much it meant to him to see one of his old friends- my book- returning to him after its travels.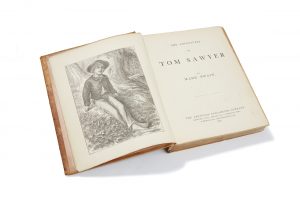 We are offering an amazing book in our June auction: it is not in perfect condition- in fact, it is a little rough. The front cover is detached, the spine is very worn, but it is all there. It is an 1874 1st edition of Mark Twain's Tom Sawyer.
Now, I don't know about you, but I had to read Tom Sawyer in high school, and then again in a comparative literature class in college. It was not my favorite book. Then, in my twenties, I was teaching literature, and it was on the reading list. I re-read it with my students, and finally understood the magic of it- the wonderful portrait of youthful life that Twain had crafted. It was never meant to be read by kids: it was a book for adults, to remind them of a time when it was still okay to make mistakes- even big ones- and that it would still turn out to be all right.
How many hands have held this 144 year old book? How many eyes have read it? How many people have chuckled at Twain's wry humor? I don't know, but I believe that if Twain could hold this old book, he too would be moved, as he imagined its journey until this moment, and perhaps imagined its journeys still to come.