Rare Lalique vase and Vonnoh bronze top catalogue auction March 2 through 16
The March catalogue auction features a number of exceptional family heirlooms including a rare Lalique vase and an important Vonnoh bronze.
A visit to a family in Arbuckle revealed one of the most exciting discoveries of the catalogue auction—a rare Bacchante's vase. The golden color of the figures in the opalescent glass vase makes it a very important early Lalique vase. The Bacchante vase was originally introduced by the famed Rene Lalique glass maker in 1927 and are still available today, but pieces like this recently have sold at auction for more than $30,000. Because it was part of the family treasures, the Bacchante vase was displayed in a china cabinet for nearly 100 years. Received as a wedding present by one of the first chief executive officers of Caterpillar Tractor, C.L. Best, and his wife, it in the family home until its recent discovery.
It's rare to hear of business titans in the Central Valley, but there are many of them in the area who funded and ran great companies.  This family was one of them. With a conservative valuation of $15,000 to $25,000, Lalique enthusiasts wanting to add this rare vase to their collection would be getting a great addition at that price.
"Enthroned", the famous bronze by Bessie Potter Vonnoh, was an afterthought of a Carmel consignor during my visit, yet it is only the third example of this iconic artwork to surface. One model currently is displayed at the Metropolitan Museum of Art in New York. The other sold at Christie's in 1996 for nearly $30,000. The sculpture is an important example of the work of this female artist from the turn of the century. Bessie Potter Vonnoh  (1875-1955) studied with sculptors Lorado Taft at the Art Institute of Chicago and August Rodin while in Europe.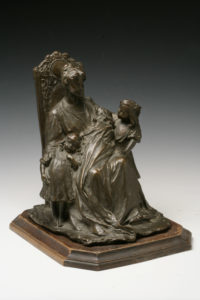 Besides "Enthroned," her best known sculpture today is the Frances Hodgson Burnett Memorial in Central Park. The bronze was originally owned by Virginia Drew (1895-1965), who opened a Connecticut school at the turn of the century, and became part of the art collection of the family from Carmel.With a low estimate of $15,000 to $25,000, this noteworthy piece would be perfect for the right collector.