My most recent blog post focused on how art can make a home uniquely yours. Want to make your table settings also uniquely yours? Then use old silver serving pieces.
A humble silver porringer with a revolutionary history
A primary highlight of this premier auction is a Pre-American Revolutionary War era porringer by the Boston silversmith Samuel Burt (1724 – 1754). Samuel, the Burt's first-born, became the apprentice of his father John Burt (1962 – 1745) at a very young age. The Burt family was one of the most prominent families that produced silver in 18th-century Boston, playing an active role in silver making for approximately ninety years. The family was a contemporary of Paul Revere.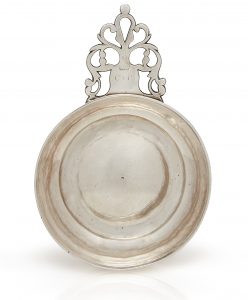 Making America — one table setting at a time
Why would you buy a porringer when porridge is not on any modern day menu? It makes a perfect butter dish. Hand crafted and one of a kind it is sure to be a stunner on any table or kitchen counter. And with Independence Day this week, the idea that this piece is older than our country itself proves a powerful conversation starter for any dinner party! It carries a $1,000-$2,500 estimate and has a starting bid of $500.
Dinner is served — the silver way
Other stunning entertaining pieces include a heavy sterling hexagonal footed tray by Peter Guile Ltd. of England. Unique as the tray itself would be to use several mismatched trays in lieu of placemats at your dinner party.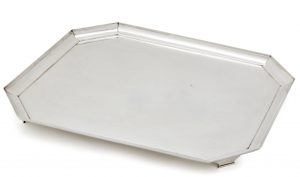 Tea or coffee? The Father of Contemporary Mexican Silver helps you serve it up in style
One of the newer pieces up for auction but no less unique both in its design and its history is a William Spratling (1900-1967) four piece sterling silver tea service comprising a coffee pot, tea pot, hot milk pot and tray. Spratling was born in New York but is known as the "Father of Contemporary Mexican Silver." After the revolution, the highly charged political and social environment in Mexico influenced Spratling's decision in 1931 to reestablish a silver industry in Taxco. Although Taxco was a traditional site of silver mines, it had no native silver working industry. Spratling began designing works in silver based primarily on pre-Columbian and traditional motifs.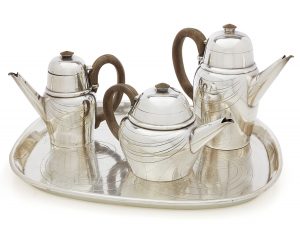 View these items and many more here.