Soon after moving to Sacramento, I began exploring Old Town, our historic district in Sacramento, right along the river front. I was intrigued by its combination of old and traditional, and new and touristy. I concluded that it had managed to keep a lot of its charm, thanks to the State and City preserving it when developers wanted to tear it down. It wasn't hard to see through the veneer of candy shops, bars, and restaurants to the historic bones of early Sacramento as the gateway to the gold fields.
A years or so later, I was cruising through the offerings from Witherell's (before I was lucky enough to become a part of the staff) and noticed two Masonic swords, named to one man. What caught my attention was that one of them had the words "Sacramento Commandery" etched on the blade. By the maker, I knew that the sword had to pre-date 1900, so I bid what I could afford, and was fortunate enough to win them both!
I now owned two tangible pieces of Sacramento's history, and as I researched the name of the original owner, I discovered that he had been murdered in 1872! This led me into other searches, discovering where the Sacramento Commandery had been, and where the man had died, as well as who had probably killed him. Best of all, I could now picture those places, and imagine the man as he had been back in 1870.
For many of us, place is an important part of collecting. Sometimes it is the place that you live. Sometimes it is a place that you have visited. Other times it is a place that you have only imagined, but that has special meaning to you. I know that when I visited Gettysburg for the first time, and stood on Little Round Top, looking towards the West as the sun set, that my heart truly connected to my knowledge of the Civil War. In some ways, I hadn't really thought of Sacramento as my home town until I bought and researched those swords. Place is important, in our hearts, and in our minds.
The Shelton Collection
We just got in a really amazing collection of guns, along with a few bowie knives. What makes them amazing isn't just that they are beautiful, rare, and historical. To me, it is their PLACE.
The guns were part of the collection of Mr. Lawrence P. Shelton, who quite literally wrote the book on California Gunsmiths! Not only are most of the guns either California made, or specifically made to be sold in California, most of the California guns are illustrated in Mr. Sheltons' excellent book, California Gunsmiths, 1846 – 1900. Best of all is that these guns represent the histories of places I know and love.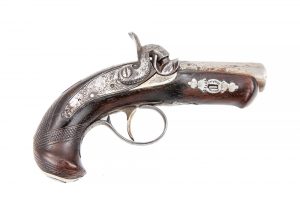 A Sacramento Gun
The derringer is probably the most evocative gun of the Old West. One cannot pick one up without imagining a riverboat gambler with one tucked into his vest, or a gold miner, using it do defend his claim! One of the two derringers from the collection was actually made right here in Sacramento, at a location I know well. It is a beautiful little gun, with a gold band at the breech, and handsomely engraved mounts, and it is only 5 ½ inches long with a 2 inch barrel, but a sizable .38 caliber bore- guaranteed to intimidate the card sharp or claim jumper. It is marked as made by the firm of Wilson and Evans, who operated first on K Street, and then on J Street, in what is today Old Town Sacramento! You know that it was made to the sound of steamship whistles, and the pounding of railway spikes, or possibly to the sound of the Pony Express rider galloping to his final stop- all within a block of where this little gun was made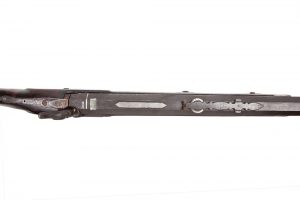 A Santa Cruz Gun!
Perhaps even more startling to me was when I picked up a handsome, heavy barreled percussion target rifle, and saw "Santa Cruz" on the barrel. Today, Santa Cruz is a college town, home to the University of California at Santa Cruz, and a place better known for Vegan cuisine and book stores than anything else. However, back in the Old Days, Santa Cruz was a thriving town that was the hub of the lumber industry, and that even saw some gold mining in the nearby mountains. That is where R. H. Johnson settled in 1865, and made his superb target and hunting rifles. The one in the collection almost perfectly fits the description of a gun described in an article from an 1865 issue of The Santa Cruz Sentinel as "…the truest and best made gun…"
San Francisco Guns and Knives
Most of the guns in the group we are offering were made in or for San Francisco, my home town. From shops on Battery Street, to Montgomery Street- today the financial heart of modern San Francisco, the guns represent men who armed the earliest '49ers, as well as the "Nobs" of immense wealth, some of whose houses still stand on Nob Hill.
Several of the guns are superb shotguns by J.P. Clabrough, a well known Birmingham gunsmith who eventually relocated to San Francisco, where he and his brothers, and eventually his sons collaborated on some of the finest shotguns of the late Victorian era. Then there are the guns of A.J. Plate, a German born "'49er," who settled in San Francisco where he made superb rifles, as well as what were then illegal copies of the famous Derringer pistols of Henry Derringer, even "borrowing" Derringer's name!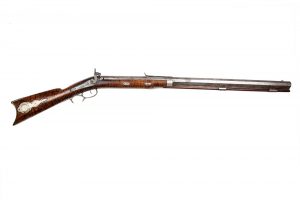 The Founding Gunsmith
There is one gun in the collection that isn't California connected- but it is close. The top of the barrel has "W. bECK <sic>" stamped on it.
William Beck was an early settler of Portland, Oregon- a city that I have always loved. Mr. Beck settled there in 1852, and is described as Oregon's "founding gunsmith," and also became a Justice of the Peace, and led the effort to build Portland's first bridge across the might Columbia River. The rifle displays his craftsmanship: a heavy barrel, with sharp rifling, a handsomely engraved lock, and a tiger-striped maple stock make this a gun that conjures Oregon's earliest American settlers, as well as the beauty of the Columbia that the gun's maker helped to bridge.
There are other guns, all the rest made or sold in San Francisco, and like the ones carried by men such as Larkin, Crocker, Stanford, and the rest. There are a few knives, too: one made in San Francisco by E.T. Allen, a rare maker, and another whose blade is etched, I Dig Gold From Quartz." All of these guns and knives conjure not just a time, but a place, and if your heart is connected to one of those places, as mine is, then you can't help being stirred by these fine collectibles.