The month of June brought a rare opportunity to Witherell's team. We were invited by the owner of a hidden outpost in the heart of Napa Wine County to appraise a collection of items that proved deeply historic and compelling. There, on 11 rolling acres known as Pope Valley sits a garage, general store, hotel, buildings and barns, each harboring long ago artifacts of the past – from the days of President Ulysses S. Grant, through Prohibition, the Great Depression, two world wars and radical social change, to the tech-dominated culture in which we today live.
Heightening our anticipation was the knowledge that we'd be the first to lay eyes upon a collection that had been growing over many, many decades. Recognizing the owners had placed a great deal of trust in our family-owned company, we proceeded to the property with the Witherell team, iPads ready for research, camera set to shoot in dim lighting and our collective curiosity at high pique. We were not disappointed in what we uncovered and very pleased to be selected offer such an amazing collection in a live auction scheduled for September, 6.
Stage Coaches, Quicksilver and a Couple's Commitment
The property was first purchased in 1875 by Henry Schaeffer whose one-story building served as a store and stage coach stop to supply the men working in the region's cinnabar-quicksilver mining operations. It was an existence torn from the pages of classic Old West history. In 1912 local homesteader Thomas L. G. Neil bought the property and built the hotel, a bar and garage in response to the region's growing popularity as a getaway for San Francisco tourists. The current owner, Brad Kirkpatrick, born in the region, married Elgie Neil (granddaughter of Thomas) and actively worked the property while serving as volunteer firefighter, fire chief, tow truck driver and guardian of the Pope Valley complex. Elgie worked by his side as a nurse and firefighter for 50 years of marriage until her death in 2007. It was a nostalgic Brad who took us on a journey of discovery.
From Dark, Dusty Corners to the Light of Day
We wandered through rooms lit only by sun peeking through curtained windows. In corners were boxes and crates that hadn't been opened for many decades; shelves lined with bottles from the days of tonics and elixirs, and drawers sealed shut with time. Brad pointed out stacks of curiosities he'd never had the will to toss away. Through crowded aisles, from one small room to another we wandered and listened to stories of how he'd come to own this and that, and hadn't had the heart to toss it away. Even a bit overwhelmed, we were grateful for his stewardship. Among the curiosities and memorabilia we found a rare Watling Cupid Slot Machine from about 1910. With only five to nine of these machines in existence, the little slot machine will be a highlight of our Americana online auction next spring. The counter top machine sports a mechanism that dispensed gum when a nickel was dropped into the slot – this was to evade a 1911 law that made slot machines illegal in California.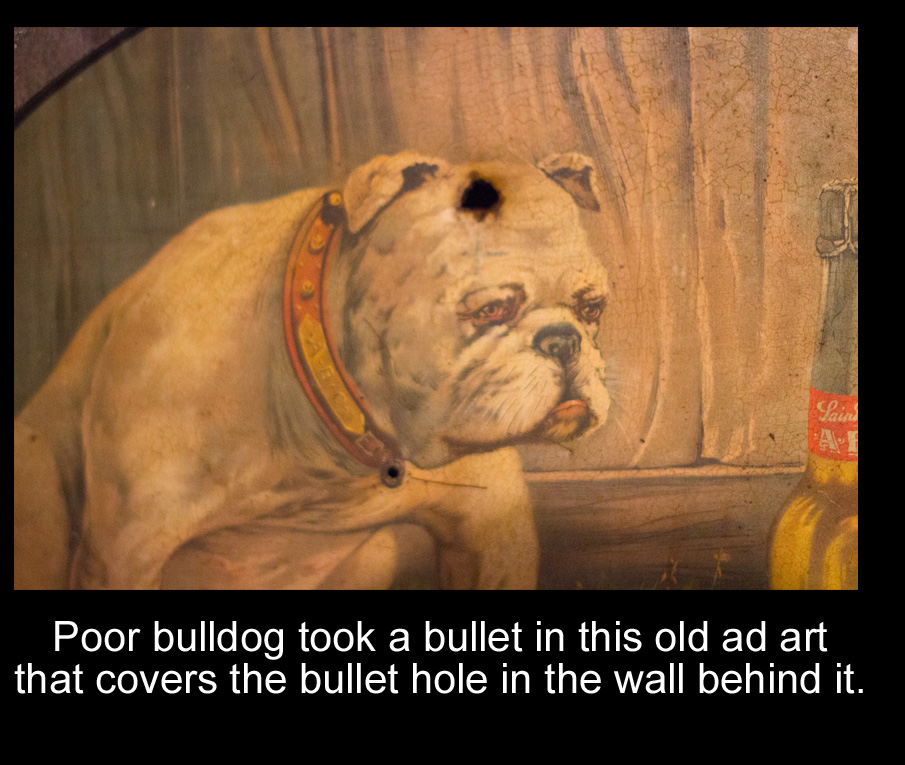 We spotted collectible advertising signs, classic cash registers, cases of original Coca Cola bottles, tools, barware – and even a curious painting of a bulldog with a scorched bullet hole in its head, guarding a bottle of American Brewing Company Beer. Upon moving the picture we discovered the matching hole in the wall behind it! Other fun finds include a Mills Juke Box, a classic cast iron coffee grinder and, just last week, Connor, a member of our team, uncovered yet another 'slot machine' in a dusty corner of a basement – only this one is a cast iron Trade Stimulator that offers no payout as yet another way to skirt anti-gaming laws. Outdoors, Brad showed us very old tractors he'd lovingly restored and vehicles to set a collector's heart pounding.
All-American Live Auction this Fall
We're researching and readying this remarkable collection for sale while removing and securing valuables that aren't nailed down. This is all in preparation for an old fashioned, live auction – the kind of event that draws neighbors and collectors who love Old West and Americana antiques, and treasure the chance to experience the time-honored tradition of an auctioneer singing out to motivate bidders.
There are many interesting stories associated with the history and people of Pope Valley. To share it with you we'll leverage the most modern tools – our Fab Finds Blog, Twitter and Face Book. This experience promises to be fun – I hope you'll come along for the ride!