As I looked at the upcoming calendar for Witherell's auctions, I was taken by the title "Kachina Dolls", as it is a term I had never heard of.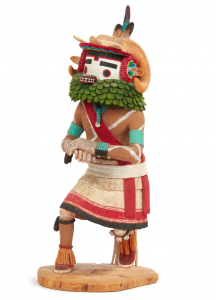 What are Kachina Dolls you ask?
A kachina doll is a carved, painted, costumed doll made by Southwest Native Americans, primarily the Hopi tribe.  The dolls are dressed in the costume of a particular Hopi spirit and are usually presented to a child as a gift.  The dolls are traditionally hand -carved from the roots of a cottonwood tree.  After carving, each doll receives a coating of clay or is whitewashed and then painted using natural pigments, or in modern times possibly acrylic paint.  Each color used has a cardinal directional meaning and several symbolic meanings. 
Past Tradition
Although Kachina Dolls are often given to Hopi children, they are not a toy. A well-carved Kachina Doll is easy to admire as a work of art, but people say the real spirit of Tihu is found within. 
The oldest known dolls from the 18th century were very simple in design and often carved as a single piece.  Today, arms, legs, headpiece and sometimes the head itself all may be carved separately and then joined together.  Today's designs involve both history and artistry.  They are much more intricate and are highly collectible items. 
Witherell's is auctioning an intricate collection of dolls from the late educator Thomas Empey (1946-2016) who was a renowned professor in Wyoming.  As an arts enthusiast, Empey assembled his Kachina Doll collection out of love and respect for the Native American culture and spiritual beliefs. His fascination began as a child growing up in southern Utah.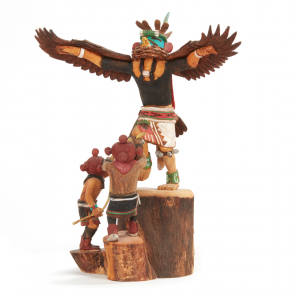 Intricate Artform
As an arts enthusiast and collector myself, I am particularly captivated with two pieces in his collection.   
First, Eagle with Mud Heads Hopi Kachinas "Kwahu and  Koyemsi" by Henry Naha.  Naha was trained by his Hopi Godfather and Kachina Master carver Cecil Calnimptewa. His strong body of work is known for excellent proportions, action poses and defined musculature.   This particular piece is masterfully hand carved and painted.
Second, Butterfly Man Kachina "Poli Taka" by Neil David Sr. Very intricately carved and delicately painted in bright color, this Kachina is the only male dancer in the Butterfly Dance. David is an award winning Kachina artist and painter. He has been the subject and illustrator of Kachina publications.
As I have mentioned before, art makes a home unique.  These two pieces are truly unique and can stand on their own in any art collection, but they would also be stand out additions to anyone with a Kachina Doll collection or anyone who is interested in starting a collection.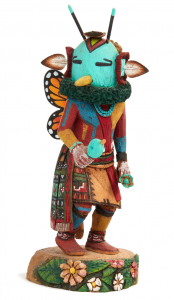 I often find small sculptures to be one of the most versatile art pieces.  They are easily moved from shelf, to table top, and even to the floor.   Each time I move my own collection, I feel like I am getting a brand new piece of art.  Viewing the art in a different setting, different light or at different heights gives me a whole new perspective on a piece.  Kachina Dolls have a fascinating story to tell, and I am sure that finding the right spot or spots in your home will only grow that story.