I wanted to be a cowboy. In fact, I could claim to already being a part time cowboy. I had the outfit: chaps, boots, rawhide vest, gun belt and six-shooter, hat- I was ready to go. I think I even called my Mom "school marm." The fact that I was five years old did not come into it. At least six to ten hours each week, I was a cowboy, mostly in front of the TV, although also outside, galloping around the yard, "heck bent for leather," twirling my six-shooter, and practicing my quick draw. I don't think I actually realized that being a cowboy had anything to do with cows, although I did sing the appropriate songs involving "little doggies" who were supposed to "git along."
Earlier Years
Growing up in America in the late 1950's, it was nearly impossible NOT to want to be a cowboy! They were our icons, and turning on the television, we watched "Have Gun, Will Travel," and "Wanted: Dead or Alive," and "Tales of Wells Fargo," and then on the weekends it would be John Wayne movies, "Rin-Tin-Tin," and "Sky King." Even "Andy's Gang" had characters in cowboy boots. In the 1960's we added "Bonanza," "The Rifleman," "Maverick," and more.
These wonderful, rather unrealistic TV shows added to the American mystique of the cowboy, so that today there are many thousands of people who avidly collect Western memorabilia, and Colts and Winchesters consistently remain among the most highly sought collectibles. Even during our recent recession, when almost all collectibles saw their prices decline, Western memorabilia maintained its value better than almost any other area of collectibles, new record prices still being achieved on a record basis. More recently, movies like "Tombstone" and "Wyatt Earp," and "Open Range" have maintained the genre, and guaranteed the health, and even the growth of interest in the West quite literally, world-wide.
We have recently received a truly remarkable collection of Western memorabilia that will be going up for auction on October 16. It includes many wonderful items that chronicle the Wild West, including many spectacular signs, with vivid and memorable graphics that would set any cowboy's heart aflame. Among those signs and other items is one that especially caught my imagination: a genuine Stetson cowboy hat, in its original Stetson hat box.
Cowboy Dreams
We had a customer in the other day who had a reaction like mine to the hat. He had to put it on his head! For that moment, he was back in his dreams of being a cowboy that he had put away many years ago, but that this hat brought back to life. That is an opportunity few of us get when we grow up.
I was lucky in that regard. I was hired to work as an actor in a park that had running steam trains up in the Santa Cruz Mountains. The park offered rides through the redwoods, capped off with an "authentic" train robbery. I became "Marshall Esteban," one of the good guys who would shoot it out with the outlaws between three and five times a day. It was incredible fun, and naturally, I wore a Stetson.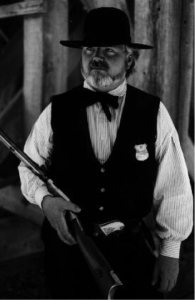 I had a Stetson, but not a "Tom Mix." It would take a real cowboy to manage a "Tom Mix."
Western Icons
There are many things that make this hat special, in my opinion. No. 1, it is a STETSON! Stetson is a word that you don't even need to modify: you hear Stetson, and you know it is going to be a fine hat. Also, there is certainly no hat more closely associated with the West than the Stetson. No. 2, it is a Tom Mix hat. It is made of beautiful fur felt, with a silk hat band, and is simply wonderful.
If you don't know Tom Mix, he was the original movie cowboy. He, along with his horse, Tony, rescued dozens of maidens, arrested vast numbers of bad guys, and generally brought justice and order to many, many western towns and ranches. At least, that is what the movies claimed. Tom Mix was the originator of much of what we associate with the movie and TV cowboy today, and he did it all extremely well. Whether it was roping, shooting, riding, or solving a mysterious hold up, Tom Mix was usually the first, and almost certainly the best. His friends included William S. Hart and Wyatt Earp. With pards like those, and a hat like that, you have serious cowboy credentials!
This auction is going to be wonderful: it is full of images that can truly be described as "iconic." It also has opportunities for the buyer to create his or her own image, whether it is through a superb pair of cowboy boots, and antique tin signs, or best of all, a genuine Stetson "Tom Mix." I know I'll be watching.