Witherell's Beal Estate Auction on March 15, 2018 is hygge heaven. What's that you ask? 
In 2017, the term "hygge" started popping up everywhere. Pronounced "hoo-guh", it is derived from a sixteenth century Norwegian term "hugga" meaning "to comfort" which is related to the English word hug. Studies demonstrate that hygge encourages diminished consumerism and invites coziness into one's life.
In other words, instead of stocking up on items that are massed produced, a preference is established to decorate with personally meaningful items. This can include antiques with a rich history, as they add character, warmth and uniqueness to every space.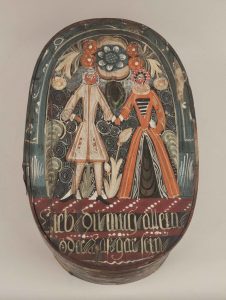 Witherell's Beal Estate Auction is chock full of hygge items. Of particular interest is an antique Scandinavian painted oval bride's box featuring male and female figures on the lid. These boxes were often made as wedding gifts to hold mementos from the marriage ceremony such as lace, ribbon and even a pressed flower or two from the wedding bouquet.  
Lighting is another key element of practicing hygge. Candles are lit even during the day, creating a calming, cozy and inviting ambience. To bring such and atmosphere to your home, you might choose to bid on a pair of charming walnut, hand crafted needlework and brass wall candle lights.
Is there any better way to add coziness to one's home?