The hours sad I left a maid
A lingering farewell taking
Whose sighs and tears my steps delayed
I thought her heart was breaking
In hurried words her name I blest
I breathed the vows that bind me
And to my heart in anguish pressed
The girl I left behind me!
This is one verse of many to the old soldier's song, "The Girl I Left Behind Me," which originated in Ireland, but is the unofficial song of the US Cavalry, along with "Garryowen." Despite its Irish origin, it has been readily adopted by all English speaking armies, and virtually every branch of each of those armies, for a very simple reason: it expresses a universal sentiment. Every soldier in every army dreams of the love he left back home—whether the mother, the wife, the sweetheart, or in the case of the German soldier, "Lili Marlene," the girl by the lamp post.
It also seems a universal sentiment to leave something behind with that sweetheart or loved one, which is the reason behind the creation of "sweetheart jewelry."
Sweetheart Jewelry
By the 20th century, a variety of types of sweetheart jewelry were in use. Probably the most common type was miniature versions of the man's badge or insignia. Miniature regimental badges were in wide distribution in the British Commonwealth. They were frequently finely enameled, set with real or artificial gemstones, or made of gold or silver. The style depended on fashions, to a degree. Art deco or local touches were sometimes added: it was common to see the fern leaf of New Zealand added to New Zealand sweetheart jewelry, and in the US a flag or even Uncle Sam might appear. I remember a sweetheart pin my Dad gave my Mom in World War II—it was a miniature pair of captain's bars, attached by a chain to an Engineer's castle.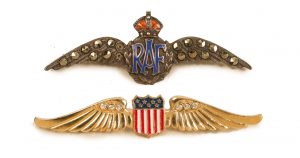 Miniature Wings
Perhaps the most romantic of 20th century sweetheart jewelry are miniature Pilot and Aircrew wings, and one of the collections we will be offering in January has what may be the finest and most extensive collection of those ever offered. The collection features primarily US and British Commonwealth sweetheart wings from both World Wars, with a few items from other branches of service, as well as other countries. The collection of those is truly amazing—especially when you consider that each of them was a gift from a brave airman to his sweetheart. The World War I wings are particularly amazing, since powered flight itself was only a decade old, and each fighting pilot was seen as being like a flying knight, chivalric and daring.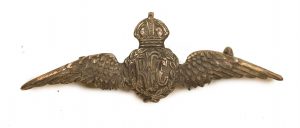 Personally, I have an imagined image of a beautiful girl in 1940s clothing, with her miniature wings proudly worn, shading her eyes as she stares up into the sky at contrails, knowing that one of them may be from her lover's plane.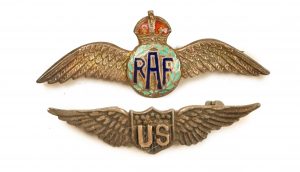 Of course, not all sweetheart pins were given to girl friends or wives. Some were given to moms.
The Commonwealth
The completeness of this collection is one of the most astonishing things. Along with a staggering variety of US sweethearts, every Commonwealth country is included; each having little touches that set it off from the others.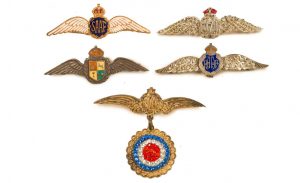 Likewise, every "class" represented: from items purchased at the equivalent of Tiffany, to items purchased at Woolworth's.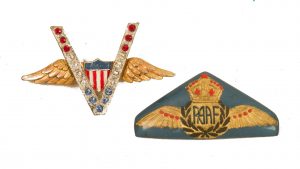 This is a collection worth seeing, and I wish that it could be kept together, since it tells not just one story, but literally hundreds of stories. In a few cases, it even tells the end of the story. One particularly touching item is a Royal Canadian Air Force wing, but it has an attachment: from the base of the wing, a Canadian Memorial Cross has been attached. These were given to the families of Canadians who died in service, in this case an RCAF Navigator, shot down over Germany. This one was probably worn, with pride, by the airman's mother.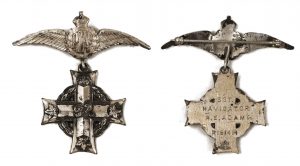 There are even a few sweetheart pins from other countries, including Germany in World War I.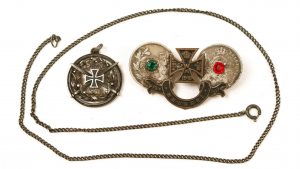 Collecting is frequently about knowing, and appreciating stories. These sweetheart pins tell us the universal story of soldiers in wartime. They choose to leave home and loved ones, to fight for the ones they love, with the hope that they will be able to return to them when their duty is done.