The start of any Antiques Roadshow is a blaze of activity with volunteers being trained, security people finding their places, scores of appraisers setting up, camera crews and thousands of hopeful guests queuing up to get their moment in front of an expert who will tell them their yard sale find is, indeed, a priceless antique. But, most commonly (about 80 percent of the time) the news is quite different and we try to deliver the let-down respectfully.
Roadshow appraisers have very little time to assess the entire scene – we are focused on our area of expertise and serving one eager guest after another. However, while taping the show in Santa Clara recently, I did spot an early entrant who turned out to have a dramatic journey to the Roadshow and a rare item that my colleague, Richard Johnston, appraised. Here's the story:
A Roadtrip with Lady Luck
Tim Hollis is a modest gentleman who works in the building trades in Jamul (pronounced Ha-Mul), located in the southern corner of California. He inherited several guitars from his grandfather and father who loved to play music as a family. Though Tim says he inherited none of the musical talent, he lovingly cared for the instruments over decades. His wife, Tara, suspecting the instruments just might have some value, proceeded to send for tickets to the Roadshow whenever it came anywhere close to the small community near the Mexican border. For 17 years she sent in requests and never was selected in the random drawing for tickets.
This year, on Tara's birthday, the couple's daughter again applied for tickets and, voila, they were selected. "There is a Roadshow God," Hollis declared as he stood beaming beneath the klieg lights on the Roadshow set. But, getting to that moment wasn't easy! Family members drove up (480 miles) the day before the show with daughter Sarah having made a hotel reservation via Expedia. Sailing up the ribbon of freeways, Sarah asked her dad to check the GPS on her cell phone. Hollis, who had never bothered with smart phones, was no help. Eventually the travelers pulled over and Sarah quickly discovered they were headed to Sacramento, not to Santa Clara. A course change! Upon arriving in Santa Clara they found the Expedia reservation had, somehow, been canceled. A plea to the Hyatt netted them a room adjacent to the convention center where the Antiques Roadshow was held. The road weary family had a peaceful night.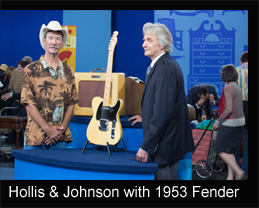 Picked from the Crowd
We spotted Hollis very early in the day pulling a wagon loaded with guitars and getting ready to take his place in line. He was easy to notice – a long, lean fellow wearing a cowboy hat and looking a little uncomfortable in the bustling up-town environment. Soon, with the crowds mushrooming and my work starting, I lost sight of him until I was filming my appraisal of a 19th century table for a future broadcast. Out of the corner of my eye I saw him shuffling from one foot to the other on the production floor. This only happens when a sharp appraiser sees a great piece and brings it to the attention of a producer. Otherwise, guests can wait in line for hours before meeting up with a Roadshow expert. One of the guitars in the wagon was clearly outstanding! Now, here Tim was, wearing makeup for the first time in his life and contemplating being on national television. "I had a dream, a premonition," he said. "But, I did think, what are the chances of being picked?"
His 1953 Fender Electric Blond guitar and its accessories were valued at $30,000 to $35,000 by Palo Alto instruments appraiser Richard Johnston. The fact that Hollis kept the guitar in such excellent condition only sweetened the deal.
"I almost fell backwards," Tim said. "I did not have a clue!" According Johnson, Fender made a limited number of this Telecaster model in 1953. When new, the Telecaster sold for about $189.50.
With his connection and memories of music played in the family's parlor on weekend nights, Hollis didn't plan to sell his Roadshow treasure and considered Johnston's on-camera observation. "He said, 'you are the caretaker of the future of these instruments," recalled Hollis, "and I take that advice seriously."
It's people like Tim Hollis and Roadshow moments like this one that keep antique appraisers like me always excited about our next big discovery.
Brian Witherell