As the date draws nearer for Witherell's Premier Holiday Auction event – Jewelry, Watches and Luxury Goods – I began thinking about how to discuss jewelry without focusing too much on the cliché phrases that define contemporary luxury brands marketing. Jewelry is an interesting and particular phenomenon – it has no invention date, it has existed in one form or another forever and certainly all cultures have an understanding of what jewelry and similar adornments mean to them, both in their communities and also on a personal and individual level. The concept of jewelry looms large and has lasted long in our understanding of material culture and our sense of personal expression. Just as jewelry needs no introduction, Witherell's Jewelry, Watches, and Luxury Goods really needs no explanation; however, a little contextualization may be illuminating for some and hopefully interesting for others.
Jewelry is typically understood in terms of ornamentation or self-adornment and is often closely associated with precious materials – gold and silver, for example, as well as various different kinds of rare natural mineral compounds like gemstones or pearls. Jewelry occupies three different social and cultural spheres. First, in a fashion sense, jewelry is a form of self-expression in which taste and style is displayed in the objects that we wear. Second, jewelry is worn for religious, ceremonial, even superstitious reasons – jewelry featuring symbols like the Cross, the Star of David, or the Evil Eye can be a source of comfort as well as an expression of faith or belief. Third, jewelry can be a sign of social status (this has been true throughout history and remains true today) where the quality, style, and even the brand of jewelry that someone wears can reflect (or seem to reflect) the wearer's financial situation and association with or placement in a specific peer-group. In these different ways we understand jewelry as able to reveal aspects of a person's identity.
The materials, arrangements, shapes, styles, and motifs featured in a piece of jewelry can also provide clues about the identity of the individual piece – where it was made and when, in what style, and even sometimes for whom the jewelry was crafted –  these questions can often be answered simply by looking closely and knowledgeably at the item itself. Although certainly much jewelry is made to be timeless, let's take a look at a few pieces from our upcoming auction with unique styles and distinctive designs that speak to the context of their creation.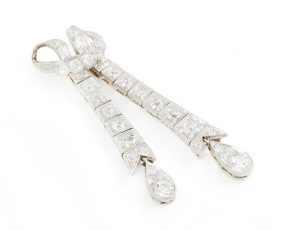 Edwardian Platinum and Diamond Pendant
This diamond pendant dates to the Edwardian period (which spanned roughly from 1901 to 1915), during which time jewelry styles were influenced by recent innovations in platinum, which made the curves found in more organic designs easier to achieve. Consequently, highly feminine pieces crafted to look like garlands, wreaths, tassels, lace, and bows (like this one) and encrusted with diamonds were the fashion of the time.  Such jewelry was intended to beautifully complement the structured, but highly delicate clothing of silks and laces worn by stylish Edwardian women.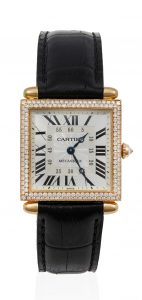 18k Cartier Tank Obus "Mecanique" Model 2380 With Diamonds
In 1917, Louis Cartier, grandson of Cartier's illustrious founder, created the unique and modern, but timelessly elegant Tank watch. The design of the watch was inspired by the tanks and other military equipment used during World War I, but with its clean lines and rectangular shape, this new piece was also in harmony with the popular Art Deco style of the time. Since its creation, the Tank model of Cartier watch has been worn by many famous individuals (from Jackie Kennedy Onassis to Andy Warhol) and by a number of celebrities (including Clark Gable, Audrey Hepburn, Warren Beatty, and Angelina Jolie). The watch's broad appeal is a testament to its almost perfect achievement of refined luxury. Although the Tank watch has changed and evolved since 1917, the high quality of materials, the skill in craftsmanship, and the overall handsome design have remained the same throughout the watch's different iterations, making this watch a truly classic piece.
14k Ametrine Diamond Ring
Flashing forward in time, we come to the 1980s. When it came to hair, clothing and jewelry in the 1980s, bigger always seemed to be better. From teased tresses to imposing shoulder pads and chunky statement necklaces, bright and bold was fashion's underlying theme for the decade. Purchased from Carmel jeweler Thom Gregg in 1987, this ring's funky geometric design and eye-catchingly vibrant purple Ametrine is a great example of what was desirable and en vogue during that time. What makes this ring distinct from and more timeless than other popular, trendy jewelry of the time is the high quality of the materials and the care and craftsmanship that went into creating this piece. Made of 14 karat gold with a stunning 4.8 carat Ametrine and punctuated by a beautiful trillion cut diamond, this ring is a charming example of how a piece of jewelry can be so particularly of its time, while also remaining timelessly unique.

Square Cut or Pear Shape, These Rocks Don't Loose Their Shape
The particular specialness of vintage jewelry is its ability to organically bring together elements of history, fashion, and art in a single beautiful and wearable item. But the value of jewelry is two-fold. One aspect, which we have already discussed, is somewhat anthropological – jewelry can be a visible marker of one's style, beliefs, social status and place in history. Another, perhaps more important, reason why jewelry is valuable today is because of the personal meaning a piece jewelry often has attached to it.
The moment in which one acquires a Cartier watch or a diamond ring is often a moment that becomes a cherished memory. Some of the diamond rings in this auction are engagement rings, to be presented by a hopeful individual to a very special someone in a moment they will remember for years to come. These rings are distinctive in the way that the symbolic meaning and personal emotional significance of the piece often outweighs its monetary value. Necklaces, bracelets, rings and the like are gifted on special occasions and during special times of the year. Whether or not they wear it everyday or keep it in a little box tucked away in a safe or shoebox, most everyone can think of a piece of jewelry that was carefully picked out for and presented to them by someone special during an important moment in their life.
Witherell's is holding the Jewelry, Watches and Luxury Goods auction in November in anticipation of the holiday season – a time for giving and, in turn, receiving, but more importantly a time to let the ones around you, those you love, know that you care deeply for them. Because it is immediately understood as precious – objectively valuable and but also meaningfully personalized – jewelry has always had a special place in our hearts and minds when it comes to the tangible expression of love and appreciation towards another person.