Destination Grass Valley/Nevada City: The Insider's Guide
Welcome to Small Town(s) America, where the lifestyle recalls the 1940s and the architecture celebrates the 1880s. Both Grass Valley and Nevada City have gas-lit downtowns and main streets without chain stores, but there are differences between the two cities (each has its own City Hall, mayor, and city council). The two cities have more than a century of shared history and rivalries; former Nevada City mayor Jennifer Ray remembers a cheer from Nevada City High School, "Grass Valley Bah!" But to the 21st century visitor, the two cities become one destination with an awesome Gold Rush-era vibe.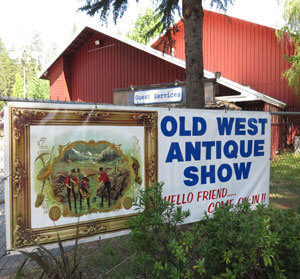 Getting there
Nevada County is located in the visually stunning Sierra Nevada foothills, and is a favorite road trip destination.
To Grass Valley:
60 miles northeast of Sacramento via I-80 to Auburn, then 25 miles north on Highway 49
157 miles north of San Francisco via I-80/49
91 miles from Reno via I-80 west, then Highway 20 west
Nevada City is three miles north of Grass Valley.
It is a generations-old Bay Area tradition while on the road to Lake Tahoe to stop at Ikeda's in Auburn for burgers, shakes, and pie. Another Auburn possibility: matzo ball soup and a pastrami sandwich at Max's.
---
Staying there
Holbrook Hotel, 212 W, Main Street, Grass Valley
Oldest hotel continuously operating in what Wikipedia describes as "California's Mother Lode," now refurbished with attractive dining options.  Centrally located in the historic downtown, the Holbrook boasts its own ghost. 3 1/2 stars on Trip Advisor.
Gold Miners Inn-Holiday Inn Express Grass Valley, 121 Bank Street. Grass Valley and Best Western Gold Country Inn, 972 Sutton Way, Grass Valley
No surprises at either, which can be a good thing.
Outside Inn, 575 E. Broad Street, Nevada City
To quote two Trip Advisor reviewers, "great retro motel away from the Nevada City crowds" and "coolest motel I've ever stayed at." A 10-minute walk from the center of town. Now with a "plush" glamping option available, Inn Town Campground, 9 Kidder Court, Nevada City, where the tents have beds with linen sheets.
In addition, Bed and Breakfast inns and Airbnb are a large part of the housing picture here.
---
Dining
Pasties
Pronounced paah-stees, these pastry-wrapped beef, chicken or vegetarian pies are a delicious tribute to Grass Valley's Cornish heritage. Find them at Marshall's, 283B Mill Street, and Cousin Jack's, 100 S. Auburn Street, both in Grass Valley.
Sushi in the Raw, 315 Spring Street, Nevada City
Widely admired by locals, including ex-Nevada City mayor Jennifer Ray, who was hesitant to divulge her secret favorite restaurant. Reservations required, so not a well-kept secret.
Three Forks Brewery, 211 Commercial Street, Nevada City
Breakfast, lunch and dinner. Wonderfully appealing salads, sandwiches, pizza, and then there are the desserts (say yes to the the salted chocolate chip cookies). And the eight on-tap brewed-on-site beers. And the cloth napkins and glass drinking glasses.
Big A Root Beer Drive In, 810 E. Main Street, Grass Valley
1940s-style drive in with carhops, burgers, shakes, etc. They make their own root beer and offer free refills.
Wheyward Girl Creamery, Nevada City
Says Yelper Laura O., "a great cheese shop in Nevada City!"
New Moon Cafe, 203 York Street, Nevada City
Another Jennifer Ray favorite, described by ex-Bay Area residents, now Nevada City-ites, "Nevada City's most gourmet location."  Fresh, organic, local, seasonal.
Lazy Dog Chocolateria, 111 Mill Street, Grass Valley
GV mayor Jason Fouyer can't get enough of their house-made, hand-dipped ice cream.
---
Cocktails and Dinner
The Mineshaft Saloon, 222 Broad St, Nevada City
Says a Yelper: "The greatest dive bar in all the land." Local color, plus patrons can order Chinese food from Fred's Szechuan Chinese Restaurant (Yelp: 3 1/2 stars) next door and eat it at the bar
---
Movies
The Del Oro, 165 Mill,Street, Grass Valley
A 1940 Art Deco movie palace is now a three-screen state-of-the-art 21st century theater featuring current hits, independent movies, and Live at The Met.
---
Wineries
Nevada City Winery and Tasting Room, 321 Spring Street
Next to the Miners Foundry, said to be the the oldest in Nevada County.
Several Tasting Rooms can be found on Mill Street, Grass Valley.
---
Workout
South Yuba Club, 555 Searls Ave, Nevada City
A second club is at the Raley's/Pine Creek Shopping Center, 722 Freeman Lane, Grass Valley
The largest health club in the area and locally owned. They welcome daily and weekly members.
Hike the Deer Creek Tribute Trail
from Nevada City to the "Chinese Bridge," 2.2 miles, easy-moderate. Take Highway 49 towards Downieville, turn left on Champion Mine Road, look for Tribute Trail signs.
The Independence Trail
Wheelchair accessible, goes through the canyon of the South Fork of the Yuba River. Parking and trailheads are accessible from the parking lot on Highway 49, about 6 miles from Nevada City heading toward Downieville.
Alta Sierra Country Club, 11897 Tammy Way, GrassValley
10 minutes from downtown Grass Valley. A private championship 18-hole course open to the public in the afternoon and on weekends, but members get the best tee times.
---
Historic attractions
The Historic Districts in both Grass Valley and Nevada City are a must-walk among circa 1880s Victorian commercial buildings and houses.
Empire Mine State Park, 10791 E. Empire Street, Grass Valley
Open daily 10-5. One of North America's oldest, largest, and most prosperous gold mines. Tours offered of the cottage, mineyard, grounds, and gardens.
North Star Mining Museum at the end of Mill Street at Allison Ranch Road, Grass Valley
See displays of mining equipment and artifacts from the 1880s, including the largest Pelton Wheel ever constructed; the Pelton Wheel revolutionized mining and was a key to the boom-town growth and success of Grass Valley and Nevada City. Have a picnic in the museum's secluded picnic area alongside a rushing creek.
Miners Foundry Cultural Center, 325 Spring Street, Nevada City
Hosts concerts, live theater, fairs, community fundraisers. Check what's on at minersfoundry.org.
Nevada Theatre, top of Broad Street, Nevada City
150 years of performances, music, movies, and art. Check the schedule at nevadatheatre.com.
Center for the Arts, 314 W. Main Street, Grass Valley
Hosts 200 performances a year, including music, dance, theater, film, and comedy. See the current program at thecenterforthearts.org.
---
Shopping
Here's where the time machine-effect really becomes visible: downtown streets in both cities are lined with Mom & Pop stores and locally-owned restaurants, and are empty of chain stores and restaurants. Some favorites:
Yuba Blue, 116 Mill Street, Grass Valley
A general store on steroids. On offer: lots of women's clothing, some men's clothing, shoes, cosmetics, children's books, yoga mats, fancy toiletries, home decor, plus, plus, plus.
Mill Street Clothing, 117 Mill Street, Grass Valley
For women. Labels include Eileen Fisher.
Farmers' Market every Saturday at Northstar House, 12075 Auburn Road, Grass Valley
The 1905 Julia Morgan-designed home for the owners of Northstar Mine.
---
Famous sons and daughters
Nevada City:
Minimalist composer/musician Terry Riley
Harpist, keyboardist, vocalist, lyricist Joanna Newsom
Beat poet Gary Snyder
Grass Valley:
European courtesan (Ludwig l of Bavaria! Franz Liszt!), dancer/actress Lola Montez lived in Grass Valley for several years.
Grass Valley's Northstar House was the setting of Wallace Stegner's Pulitzer prize-winning novel, Angel of Repose.
The Right Stuff test pilot Chuck Yeager moved to Grass Valley after he retired from the Air Force.