Satisfaction Guaranteed
We have several easy ways for you to make a purchase; all you need to do is find your perfect items.
Phone Bidding
Witherell's accepts phone bid requests up to the day before an auction. Please request a phone bid as early as possible.
On auction day, a Witherell's Staff member will call you a few minutes before your lot comes up. Our staff member will bid for you as if you were at the auction yourself.
In-person Bidding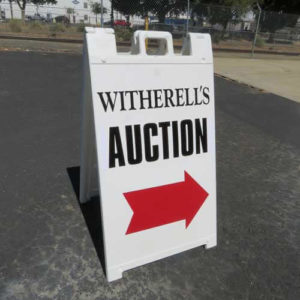 Our live auctions are typically held at our gallery (300 20th St., Sacramento, CA 95811) or across the street at our Annex. Parking is free. Our doors open 1 hour before the auction starts and registration continues during the sale. Once registered, a Witherell's staff member will provide you with a paddle/bidder number.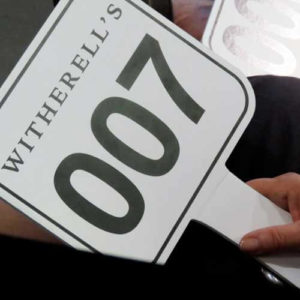 Forms of payment are cash, check or wire transfer.
Online Bidding
Witherell's uses two auction modes, both live and online. All catalogued, luxury asset auctions, will be live with online bidding. All other auctions will be limited to online only.
You need an account at witherells.com in order to bid in either format. For questions regarding online bidding, please contact us at [email protected].
Winning a Bid
Once the auction closes, you will receive an invoice by email to the address provided on your account. The forms of payment we accept include: check, cash, money order, or wire transfer (with a fee). For more payment information, please see our Payment Policy.
All purchases are available for pick up at our facilities.
Shipping
We publish the shipping cost of each lot in the online catalogue description. This cost is based on ground transportation with signature required. Multiple purchases will be grouped for discounted shipping.
For International and complex shipping requirements, we recommend getting a quote at packshippros.com or through Box Brothers at [email protected], 916-333-2732 or The UPS Store at [email protected], 916-648-1041.
Pick Up
We schedule pick-up appointments through packshippros.com every 15 minutes during regular business hours Monday – Friday, 8:30am – 4:30pm. They will have your items gathered and ready for a quick and easy transfer. Appointments can be made by phone 916-812-1845 or email [email protected]
Please note: Sacramento Sales Tax of 8.75% will be added to your invoice unless you have a valid resale license on file.
All invoices shall be paid within 5 days and removed in 21 days. Afterwards a $5 a day storage fee per lot will begin. If account is unsettled in 30 days, all lots will be re-offered and bidding revoked. The buyer shall be responsible for any losses incurred by auctioneer.
"Buy what you love and you will never be disappointed!"