Witherell's, September 20, "Art, Design and Objects of Value" auction is full of newly discovered treasures.
Recycle by Repurposing
With so much emphasis on what can be done to reduce overflowing landfills, I'm surprised more attention has not been paid to furniture.   Many people focus on cost rather than construction when purchasing furniture. In large part, lower priced furniture can be equated with "disposable". You can use it for a short period and, when it wears out, you toss it and replace it with another inexpensive piece. Over time you not only have contributed much to the landfill problem but also have spent more than if you invested in a solid piece from the start.
Timeless and Fashionable
The Art, Design and Objects of Value auction includes several pieces of hand crafted, impeccably made furniture, including a set of six George Nakashima "New" side chairs and a walnut round turned leg dining table. Nakashima was one of the founders of the American Craft Movement. In a testament to the quality of his work, the dining table found itself relatively discarded as it languished on a porch. Although the finish is slightly damaged, the table and chairs are solid and can be restored to their former glory for you and future generations to enjoy.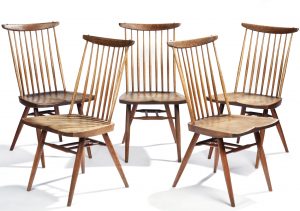 Also of note is a George Nelson for Herman Miller mid-century wall unit with two lights. George Nelson was one of the founders of American Modernism and he designed much of the 20th century's most iconic modernist furniture. In 1959 he introduced his Comprehensive Storage System. Herman Miller is no longer producing this system but it remains very contemporary and its quality construction has allowed it to stand the test of time.
Beyond furniture, the auction also features some influential printmakers of the 20th century.
Fine Arts and Treasures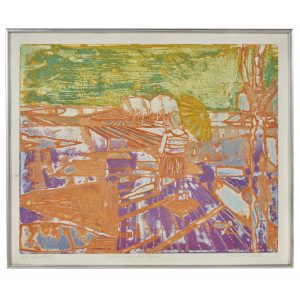 Highlights include a framed Roland Petersen viscosity color etching on paper, "Picnic Figure with Parasol". Petersen was born in Denmark but has spent much of his life as a painter and printmaker in the United States, primarily in the San Francisco Bay area. He has a very distinctive style of printmaking employing color intaglio which is a technique used to achieve a variety of textures within each image, as well as multiple colors. His work is emblematic of the Bay Area Figurative style.
Juxtapose the Petersen piece with a A J.W. Audubon lithograph, with lithographed caption and imprint, and you experience a completely different, but equally exquisite style. John Woodhouse Audubon, the youngest son of famed naturalist John James Audubon, came to California in October of 1849 with a group of miners, but had hopes of continuing his father's work in collecting natural history specimens and illustrating western fauna and flora. While the mining portion of the trip proved unsuccessful, he was able to document an important local species in the third volume of his father's The Quadrupeds of North America, published in 1854. The book describes a sea otter that Audubon reportedly saw while traveling the San Joaquin River on his way to the gold fields and it is the featured subject of the lithograph.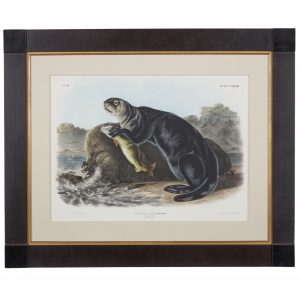 Another treasure is a bronze sculpture by Ernst Barlach (1870-1938). The piece, Lesender Klosterschüler, depicts a seated figure with an open book on its lap. Barlach was a contemporary of the German Expressionists. He supported Germany in WWI but was at odds with the Nazi's post-war rise as they sought to remove many of his works which they viewed as Pacifist in nature. Many of his works were confiscated as degenerate art by the Nazis and melted for use as ammunition. The few that survived had been smuggled out of Germany before WWII , including this piece smuggled by its original owner – a survivor of the war.
These collectibles, and the others in the auction, have unique stories to tell and are the finest form of "recycling".