Coming in May
On May 17, Witherell's is presenting a live auction full of diverse treasures spanning the history of the American West.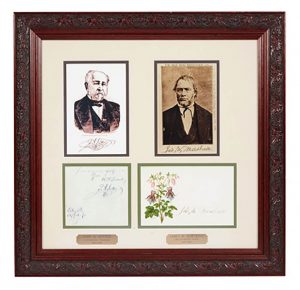 For California history buffs there are several highlights
Take a look at the framed John Sutter (1803-1880) and James W. Marshall (1810-1885) autographs. The John Sutter signature, "J.A. Sutter" is on lined paper bearing the handwritten date, "1879". (Accompanied by a Certificate of Authenticity from R&R Enterprises, Bedford, NH). The James W. Marshall signature is an autograph from an album of autographs. (Accompanied by a letter from the grandson of the Coloma, CA woman who collected the signatures.) John Sutter was the Swiss born pioneer who arrived in California in 1839 and constructed Fort Sutter in Sacramento. He began building a saw mill with James Marshall and gold was discovered there in 1848.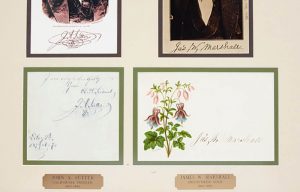 Worth noting
An item worth noting is the framed oil on canvas depiction of a waterfall in Yosemite by Thomas Hill (1829-1908). (Signed, "T. Hill" lower right). Thomas Hill emigrated from England in 1844, studying art in Philadelphia and living in Taunton, MA. He is loosely associated with the Hudson River School of Painters. His move to California in 1861 brought him new material for his paintings and the Yosemite Valley became his signature subject. He was one of the foremost 19th Century landscape painters and his best works are often associated with monumental vistas such as Yosemite and the Grand Canyon. His work is in many museum collections including the Metropolitan Museum of Art and the Crocker Art Museum.
Interested in battlefield history?
There is something for you too. A relic condition Remington New Model Army Revolver, supposedly found in 1903 on the Little Big Horn Battlefield, with period letter stating that supposition. The letter describes it as a "Colt" pistol, and states it was found among bones of a white man. Interestingly, if it was present at Little Big Horn, it would have been a gun owned by a member of the tribe, since the 7th Cavalry and their scouts were all armed with cartridge weapons.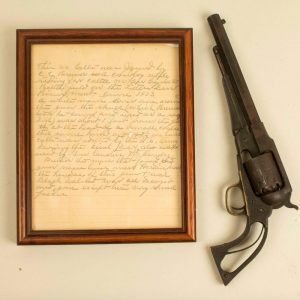 If pottery suits your interest…
Another highlight is a San Ildefonso Pueblo redware standing bear with turquoise accents by Tony Da (1940-2008). Tony Da is part of a ground breaking family of potters in San Ildefonso Pueblo. His grandparents, Maria and Julian Martinez, were the first to change from functional polychrome pottery to black on black works of art around 1925. His father, Papovi Da, began creating large polychrome pieces and occasionally using inlay turquoise. Tony, whose first interest was painting, was among the first men to both design and make pottery. He introduced sgraffito etching, inlaid stones, and beads, initiated black and sienna colorations, and invented his stylized iconography derived from the ancient Mimbres pottery. He extensively used inlay turquoise, wrought silver and shell beads in his pottery pieces and in creating "modern" pieces.