Treasury Secretary Alexander Hamilton.  Founding Father Alexander Hamilton.  Bank of New York Founder Alexander Hamilton. Hamilton the Musical.  Colonel Alexander Hamilton?  Yes!
With the success of the Broadway and touring productions of "Hamilton", we all know much more about the man we see every day on the U.S. ten dollar bill.  He had an illustrious military and political career that ended tragically in his 1804 duel with Aaron Burr. His legacies are many, but he is best known for establishing the financial system upon which the United States still relies.
Military Experience
Hamilton's military experience began as a student at Kings College (now Columbia University).  The College closed its doors during the British occupation of the city and so, before graduating, Hamilton joined a Revolutionary militia company. He began studying military arts and achieved the rank of lieutenant. His intelligence allowed him to quickly master the highly technical fields and he was appointed captain by 1776, after which he caught the eye of General Washington and was promoted to lieutenant colonel and aide-de-camp to Washington. An annoyance to Alexander Hamilton was the fact that Washington did not promote him beyond these ranks and is part of the reason that he chose to angrily resign his commission in 1781.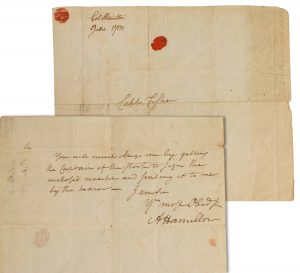 The Hamilton Letter
A fascinating but little known fact is that Hamilton was promoted to Colonel by an act of Congress in 1783.  The commission was granted in recognition of his extraordinary service to the nascent United States of America. The promotion was short-lived, just three months in length, but this letter, currently offered by Witherell's, was written by Hamilton in that time period.
At the time of its writing, Hamilton was likely practicing law in New York City and Albany, New York. He specialized in defending Tories and British subjects, as in Rutgers v. Waddington, in which he defeated a claim for damages done to a brewery by the Englishmen who held it during the military occupation of New York.
When in Albany, Alexander Hamilton and his wife, Elizabeth Schuyler Hamilton, resided at the Philip Schulyer Mansion on Catherine Street, the same home in which they were married.  Hamilton worked from the library in this historic mansion.  Was this letter written there, at his law office at 12 Garden Street in New York City (now Exchange Place in the center of the Financial District) or in a carriage while traveling between these two cities?  We will never know for certain, but now you have a chance to own a piece of this history through the purchase of this authenticated letter written and signed by Alexander Hamilton.