As a designer, I tell my clients original art is what makes a home uniquely yours. I always encourage purchasing one of a kind original art within their budget rather than limited editions. But I make an exception for collectible posters. In particular travel posters, which I think have great artistic value.
In the early part of the 20th century, railway companies would hire artists to create beautiful posters to promote exotic new destinations. When commercial aviation took off airlines followed suite. With their brilliant colors and ability to radiate a sense of adventure they enticed people to book trips.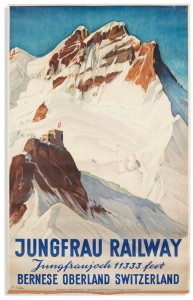 Travel posters have now come to serve as mementos of happy vacations, honeymoons, and other cherished moments in time. They are also seen as art by collectors and are highly sought after. For beginning and experienced collectors alike this allows them to own artwork by famous artists at low prices.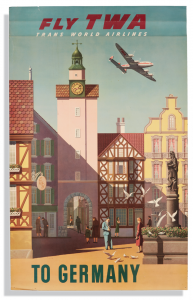 In addition, with an average size of 29 x 39 inches, they are easy to include in any size room or home.
Witherell's 3rd Thursday Discovery Auction this month has numerous offerings of travel posters, including a Nathan Air France Paris Orly poster, a Ernst Hopel Jungfran Railway poster and a S. Greco TWA Germany poster. I encourage you to check out the offerings and see if any serve as a memento or colorful addition to your home.
Remember all bidding for the Discovery Auctions starts at $5 and there is no buyer's premium.