A thrift store, a flea market, an estate sale or even an unfamiliar driveway where someone is selling things out of their garage – this is the setting, now picture the scene: there are people milling about, maybe alone or maybe with a friend, but nevertheless with cash in their pockets, weaving amongst the items, picking objects up and putting them back down, picking objects up and taking them to whoever is running the register, leaving with something that is at once old and new… with something that spoke to them. This is a story about taste. While taste is a concept, it is most easily understood through the action of choice. Taste is an idea expressed through the act of picking, choosing, selecting.
Although many of us have an understanding of what taste is (at the very least we possess knowledge of our own personal taste), behind this simple word exists a complex social concept rooted in both natural and artificial creation and hinging on the similarly complicated idea of style. Taste is a subject that has been studied in depth across a myriad of fields (art history, history, architecture, design, fashion, psychology, sociology, etc.) and the fundamentally recurring questions is: What accounts for taste? Furthermore, how and why do we each develop our own personal tastes? Must we approach this question with another, opening up the age-old debate of nature versus nurture? Can we and/or do we play an active role in creating our own taste?

Witherell's is excited to present our August Third Thursday Auction featuring a number of stunning pieces of Arts and Crafts pottery from the impressive collection of Nina Bookbinder. While it may seem obvious that any and all collections are born out of and refined according to the collector's personal taste, consideration of Ms. Bookbinder's collection will help us to better understand and appreciate the development and different aspects of taste. Most of the pottery in this auction was created during the first half of the 20th century and in the style of the Arts and Crafts and, later, the Aesthetic Movement. Exploring the ways in which art and nature are intricately intertwined in the ideas behind these important artistic movements will shed light on some of the questions surrounding the creation, cultivation, and curation of taste in relation to a personal collection.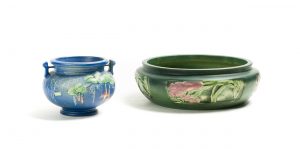 In the summer of 1991, Nina Bookbinder was at an outdoor flea market in Maine, weaving between tables and wandering through makeshift aisles, picking objects up and putting them down. "It was a small, blue Roseville 'Fuchsia' pattern bowl… I didn't know anything about it, but the colors and patterns appealed to me. It reminded me of a vintage scarf my mother had and it also evoked a feel of vintage floral patterns and ceramics I'd seen a lot in my childhood on the East Coast." This is a story about taste. This is a story in which at a flea market in Maine, an object is picked up and not put back down. In this story, Ms. Bookbinder leaves with the Roseville 'Fuchsia' pattern bowl not yet knowing that something has begun, something born out of and with love for both the natural and learned (artificial), rooted in taste. This is the moment, the beginning of Ms. Bookbinder's decades-long quest for art and for beauty, for a kind of personal aesthetic fulfillment, which would ultimately result in the amassing of a stunning collection of Arts and Crafts pottery.
A few months after the flea market in Maine, Ms. Bookbinder enrolled in a class at U.C. Berkeley, "A History of Architecture, Interiors, and Decorative Arts." For Ms. Bookbinder, an early affinity for the arts had led to more formal study as an artist in college and eventually to a career as a graphic designer and creative director for major home-furnishing companies like William Sonoma and Restoration Hardware. While the Berkeley course certainly appealed to her artistic proclivities and was relevant to her professional work, the class also happened to be Ms. Bookbinder's first formal introduction to the Arts and Crafts Movement. It was this class that would ultimately propel her aesthetically, ideologically and personally into a world which celebrated the beauty of nature while also promoting the idea of Art for Art's sake.
Taste, on some level, is personal. Taste, on all levels, exists within a specific context – it is developed at a certain time, in a certain place, and is subject to the condition of the current cultural climate which dictates social values and beliefs. Reflecting now upon the Berkeley course and learning about the 19th and early 20th century Arts and Crafts Movement, Ms. Bookbinder recalls her upbringing in New York: "I had no idea that these kinds of buildings and items from my childhood were an actual style… I only knew that the style had always felt comfortable to me — warm, cozy, linear and visually rich." This revelation aligns with the definitions of taste: 1) a keenness for and inclination towards something (developed in childhood); 2) comfortable according to and understood within the cultural climate in which the individual learns what is beautiful and valued; 3) enjoyment in the experience of a beautiful object. But, what accounts for taste? Nature or nurture? What is innate and what is learned or absorbed? Is taste organic or artificial? Is it both? Much can be gained from the understanding that what is organic may at times appear to be artificial, while the artificial often imitates the organic, and that there is a little bit of each in the other.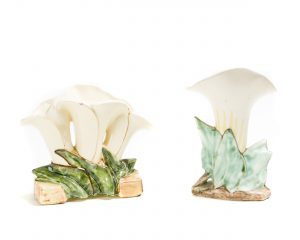 This is not only a joining of the natural and artificial in the theoretical sense. On less esoteric grounds, the Arts and Crafts Movement physically blended the natural and artificial in its unique and unprecedented style. It was the ideas of John Ruskin – art critic, social reformer, and philosopher – which underscored the link between nature, art, and society, that had a profound impact on those credited with beginning the Arts and Crafts Movement, including the English painters and designers William Morris and Edward Burne-Jones and subsequently Americans like Gustave Stickley and Louis Comfort Tiffany, a furniture and jewelry/glass designer respectively. The works of art executed in the Arts and Crafts and the Aesthetic style (all forms of art including, but not limited to paintings, sculptures, buildings, wallpaper, furniture, and pottery) were meant to be created "after life," modeled directly after elements of nature. Taking inspiration from naturally-occurring pigments, biomorphic lines and forms, and organic patterns and motifs, artists, designers, and architects created these works with the intention of eliciting from the viewer that same visual pleasure he or she would receive when looking at the real thing.
We see this unification of the natural and the artificial with Arts and Crafts pottery, not only in the style of the pieces, but in the philosophy behind and action of their creation. One of the most recognizable names in American Arts and Crafts pottery is Rookwood. Rookwood's "chemist-cum-ceramicist" Karl Langenbeck utilized his knowledge as a scientist and an artist to develop the air-brush glazing technique which gives Rookwood pieces their signature soft surface, characterized by smooth and even color transitions. Langenbeck combined elements of art and nature (science) to create an organically beautiful object. Among the auction items there is the blush colored cream and sugar set, which appears to have the soft, slightly fuzzed skin of a peach; the buttery dark green glazed tall olive vase; and the gently rendered bust of "Eleanor of Aragon," with its smoothly sloping neck that leads to shoulders so carefully shaped you feel you could reach out and take hold of them. This is how the most beautiful elements of nature and art combine, how seeing becomes a spectacular sensation.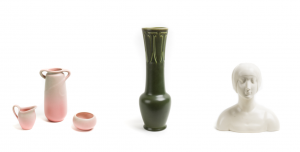 "Visual joy" is the precise phrase used by Ms. Bookbinder to describe not only the motivation behind her acquisition of new pieces of Arts and Crafts pottery, but also the idea she kept in mind as she arranged the pieces for display in her home. Visual joy was at once the impetus, incentive, and outcome. "I see the world in terms of shapes, colors, patterns, and textures. Looking at a piece of art pottery, my eye runs along the shape, the outline of the piece as though I were drawing it on paper. I see the nuances of the color, texture of the glaze, the decorative detail. With a beautiful piece of pottery, the harmony of all these elements gives me visual joy." Ms. Bookbinder's passion and appreciation for the simple yet elegant style and quality of craftsmanship found in Arts and Crafts pottery as well as her understanding of the beautiful as natural, not only brought her personal pleasure, but professional inspiration. Ms. Bookbinder's work as a creative director demonstrates her eye for the nuances of tone, the effect of a line, and her ability to create what is at once artful and organic. She also has a clear preference for natural, yet vibrant colors (delicate sky blues, intense leafy greens, bright creamy whites, and shocking sunbursts of orange); this can be observed in both her personal pottery collection and her professional portfolio.
In his preface to Ruskin's The Nature of Gothic, William Morris writes, "Ruskin here teaches us is that art is the expression of man's pleasure in labour…man's work once again becomes a pleasure to him, the token of which change will be that beauty is once again a natural and necessary accompaniment of productive labour." One of the main tenets of the Arts and Crafts Movement was that what is natural is beautiful and what is beautiful is natural; that beauty exists in nature and can be created through man's labor from which, if natural, he derives pleasure. Pleasure logically follows from what is pleasurably created and what is naturally created. What is created in nature similarly gives us pleasure. It is in this circular, almost self-fulfilling way that our taste, our inclination towards what is naturally beautiful, is motivated by and results in pleasure, more specifically in this context, Ms. Bookbinder's experience of visual joy. In both spheres of her life Ms. Bookbinder's aesthetic and artistic choices – both personally as a collector and professionally as a designer and artistic director – can be understood as evidence of her taste and also viewed as creative acts, executed with the intention of eliciting visual joy for herself and for her audience (whether they be catalog readers flipping through her images in a magazine or friends and family in front of the mantle admiring the display of her Arts and Crafts pottery).

"If you want a golden rule that will fit everything, this is it: Have nothing in your houses that you do not know to be useful or believe to be beautiful"    

— William Morris
Developed primarily in America during the 1960s out of the modernist style, the Minimalist Movement advocated simplicity of form, color, material, and recognized the value of space. At the heart of this movement was and is the idea that removing what is unnecessary is necessary to achieving aesthetic and personal harmony. The trouble comes when we begin to think about the concept of necessity. Food, water, shelter – these instantly come to mind when we think of what it is we absolutely need to live. But to survive and to thrive are very different. Today, minimalist design and philosophy is popular among younger people because of the growing belief that less (of what you don't need) is more (of what you truly love) – think Marie Kondo's philosophy of keeping only "what sparks joy" – and also because of the increasing sense that buying and subsequently owning things (consumerism) in a global capitalist society can be exploitative. Mass production is at an all-time high, while quality often seems to be at an all time low; as humans we are buying more than ever before, and we are also throwing things away, creating more waste, at an unprecedented rate. How then are we to be ethical consumers? How can we view the acquisition of things as positive, as enriching our lives, if we are haunted by the guilt of modern day "materialism"?
Born in Victorian England, the Arts and Crafts Movement was founded, in part, in response to the increasing industrialization of British society, the most visible symptoms of which were the mass migration of people from rural places into urban centers (away from nature and into society), which was directly linked to a rapid increase in mass production, the development of factories, and the rise of modern labor and the modern laborer. In the hopes of finding a solution to the "problem" of industrialization and consequently the separation of man from nature and from beauty, the leaders of the Arts and Crafts Movement in Britain and America sought to reunite man with nature and beauty through pleasurable and productive industry. The ethos behind Arts and Crafts objects, such as the iconic pottery, is pleasure in making the product as well as pleasure in perceiving it. Owning a piece of art is so gratifying, not only because it is beautiful to look at, but because of the knowledge that there was beauty in its creation. All objects if made with love and with care can then be treasured, valued, and appreciated free from guilt.
People, across cultures, almost universally ascribe energy to objects. In the West, many of us like to think of an object as having "lived." It is in this way that we can understand an object that was created joyfully and/or with the intention to bring joy as possessing, even radiating, a kind of positive energy which can spark joy, be it visual joy or a more simple, everyday kind of happiness. The wisdom in Morris' words, to own only what we consider to be useful or beautiful, is that it speaks to the dual desires of life – the absolutely necessary and the unnecessarily necessary – while also allowing for another crucial element, the physical expression of personal taste. In this context, collecting becomes not simply a matter of amassing, but a unique kind of artistic act born out of the desire for intellectual and aesthetic expression, ultimately resulting the in the realization of personal taste and, in the best cases, that feeling of visual joy. This is often why people find themselves drawn to the decorative arts and also to antiques, not only because these objects have a rich, lived history, but because it is often clear that such objects were made well, made with intention and with care in order to bring joy to whoever should have the pleasure of possessing them. Ms. Bookbinder's Arts and Crafts pottery collection that we are offering at auction this August is constituted of pieces that were thoughtfully created by different groups of artists, artisans, and designers many, many years ago some with the goal of utility, but all with the aim of pleasure. These particular pieces were also considerately selected by a connoisseur, who developed a special affinity for each and every one of these unique works of art. Again, this is a story about taste. We can then contemplate the following as a corollary to Morris' advice: "The Happiness of a Man's life consists not in the Abundance of things that he possess, but in the Taste and Relish that he has of them."
Bibliography
Morris, William. Preface to "The Nature of Gothic" from The Stones of Venice Volume II by John Ruskin, iii-iv. Hammersmith : Printed by William Morris at the Kelmscott Press, 1892.
"taste, n.1, III." OED Online. August 2018. Oxford University Press.