It was around the time I was a sophomore in high school that I began to develop my personal taste in music. It was informed partially by the music I was exposed to growing up, a bit by the different genres and bands my brother (committed guitar player by the age of 11) listened to, especially by the handful of songs each of my parents would turn up on the radio and listen to with an extra bit of reverence, and ultimately the musical gems I discovered myself after hours of investigating and listening to different albums. Thinking back on my senior year of high school, some of my most vivid memories are of traveling to and from school driving under blue skies and listening to folk and southern rock (Bob Dylan, Jackson Browne, Crosby Stills and Nash, The Allman Brothers Band, and Bob Seger). I bonded with my freshman roommate over Led Zeppelin, Black Sabbath, King Crimson, and other strange and exciting progressive rock bands. Since moving to Los Angeles, I've found myself listening primarily (perhaps subconsciously) to the great albums produced by Asylum Records from artists like The Eagles, Joni Mitchell, Warren Zevon, and (once again) Jackson Browne – musicians that came to define the LA sound in the 1970s. For me, music has been and always will be in the unique position of being at once totally separate from myself (I don't create music, play an instrument or sing, except to myself while doing dishes!) and deeply personal – the songs that have carried me through the best and worst times of my life exist as a one-of-a-kind soundtrack that defines many of the moments that ultimately made me who I am. Although relationships and experiences will always take precedence, no thing had influenced my life more than music… until I discovered art.
Once I decided to major in art history, a whole new world opened up to me – a world of not just beautiful art, but also of history, literature, and politics – deep with symbolism and rich with stories of personal and universal triumphs and tragedies. Like music, the paintings and pieces of art that I loved, in a very real sense had nothing to do with me (born through the creativity of others who lived lifetimes and worlds away), still I learned about and came to love certain pieces that not only fascinated me, but at times felt intensely personal. Through art I was able to read messages, understand symbols and create meaning that made me feel a little less alone, a little more connected to the human experience and to myself.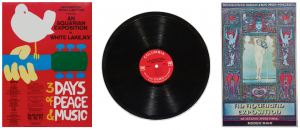 It seems inevitable that this particular blog would have a bit of a personal slant. The very first thing I ever bid at auction was a set of three 1967 Bonnie MacLean designed Bill Graham handbills featuring The Butterfield Blues Band, Jefferson Airplane, Big Brother and the Holding Company, Quicksilver Messenger Service, The Charlatans, and Blue Cheer. They were sold in Witherell's Third Thursday Auction last October. Because of my love for 1960s and 1970s music, along with my appreciation for art, the handbills really spoke to me. I remember during my lunch break pouring over the handbills, examining the different lots and their combinations of graphic art and music artists. I was firmly determined to successfully bid for at least one of the sets. I immediately bought frames for the handbills I won and they have hung in my home both in Sacramento and now Los Angeles. An incredible blend of art and music, I treasure these little pieces of the past and I continue to dream about one day having a little collection of my own.
Witherell's Third Thursday Auction for the month of September features handbills, posters, and music memorabilia from the 1960s and 1970s spread across more than 50 unique lots. Although there is certainly a great deal of cross-over between art, artists, bands, and albums related to the various music ephemera on offer – this blog is going to specifically focus on handbills, the small postcards typically based on a larger poster designs that were distributed as advertisements for concerts in the late 1960s and early 1970s. Witherell's was fortunate to receive the handbills from two different consigners, Patricia Underwood and Mike Nicholoff. Together these collections constitute an impressive selection of graphic artwork, each one created by skilled artists for bands and artists, both big, and small, who all took part in and many of whom epitomized the legendary San Francisco scene, the veritable holy mecca of what many consider to be rock's Golden Age.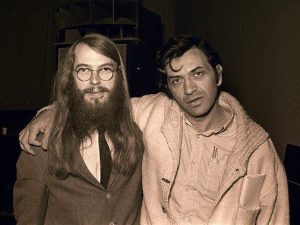 The two primary Bay Area production and promotion companies responsible for creating the iconic posters and handbills which helped define the aesthetic of the worldwide rock 'n' roll movement were The Family Dog and Bill Graham Presents. Concert promoters Chet Helms of Family Dog Productions and Bill Graham were responsible for the music renaissance of the late 1960s, spearheading the hippie and rock and roll movement from their headquarters in San Francisco. The impact and influence of these rock impresarios is hard to overstate. Known as the Father of the Summer of Love (1967) and founder/manager of Big Brother and The Holding Company (Janis Joplin's band), Helms was the first to develop the famous psychedelic light-show concerts and was instrumental in the creation of what has become known as the San Francisco Sound. Helms is credited with introducing concert promoter Bill Graham to the emerging music scene in San Francisco's Haight-Ashbury district. Together Helms and Graham popularized venues like The Fillmore, Avalon Ballroom, and Winterland Ballroom where concerts showcased the most exciting music artists of that time. They promoted and sponsored concerts featuring an almost inconceivable number of artists across a wide range of genres (rock, blues, jazz, psychedelic rock and pop, folk music, even porto-metal) that blended together to create the most iconic sounds of the era – Muddy Waters, Buddy Guy, Jimi Hendrix, Al Kooper, Mike Bloomfield, Buffalo Springfield, The Grateful Dead, The Doors, The Byrds, The Kinks, The Animals, Eric Burdon and War, Frank Zappa and the Mothers of Invention, Carlos Santana Blues Band, Miller Blues Band, The Charlatans, The Youngbloods, Jefferson Airplane, Steppenwolf, Poco, Blue Cheer, Captain Beefheart, Taj Mahal, Tim Buckley, Joan Baez, Neil Young, Bob Dylan and the list goes on. Each handbill is an individual piece of art, created with the intention of capturing public interest and imagination while primarily serving as a promotional device for whatever new exciting concert was coming up next.
Included in the auction are handbills from the Bill Graham numbered series (300 posters, from 1966 to 1973) and the Family Dog numbered series (approximately 150 numbered posters, from 1966 to 1968). Both of these documented series include some of the most iconic and inspiring artwork created in rock poster history. Handbills from both production companies are widely collected and many of the same artists created designs for both the Bill Graham and the Family Dog series. Certain artists – usually those responsible for developing new and innovative designs and artistic styles – are particularly coveted by expert collectors.
Victor Moscoso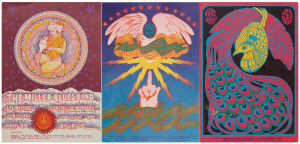 Perhaps the best known of San Francisco's "Big Five" psychedelic poster artists (the others being Wes Wilson, Stanley Mouse, Alton Kelley, and Rick Griffin), Victor Moscoso was born in Spain but moved to Brooklyn, New York at an early age. He studied at Yale University's School of Art, then moved to the West Coast to attend the San Francisco Art Institute where he received his MFA in 1961 and subsequently taught there as in instructor from 1966 to 1972. Moscoso, inspired by the art of Wes Wilson as well as that of Stanley Mouse and Alton Kelley, brought his work to Chet Helms and was commissioned to design posters for Family Dog concerts beginning in 1966. Moscoso famously "reversed" all that he had learned during his formal artistic training and as a result his work is principally defined by discordant or vibrating colors (colors that when used together can be jarring, disconcerting, even dizzying – blue/magenta; magenta/green; green/red; blue/orange). He also went against standard conventions of art and advertising by creating text that was purposefully hard to read, sometimes almost totally indecipherable. Moscoso was the first of his contemporaries to be exhibited in a major museum, at the Museum of Modern Art in New York.
Rick Griffin

Rick Griffin was born and raised in Southern California. Talented and self-taught, Griffin began contributing cartoons to "Surfer" magazine while still in high school. After graduation he began to work full-time for the publication creating cartoons, advertisements, and other illustrations. In 1966 he moved to San Francisco and began creating poster art for various shows. The following year, Griffin collaborated with fellow psychedelic artists Mouse and Kelley to create the poster for "Pow-Wow: A Gathering of the Tribes for a Human Be-In," a seminal event that featured the Grateful Dead and Jefferson Airplane alongside poets like Allen Ginsberg and other counter-culture figures such as Timothy Leary and Ram Dass. This "love-in" would later be recognized as a kind of prelude to the Summer of Love and the counter-culture movement, typified by the Haight-Ashbury hippie scene in the late 60s. Admiring his work for the "Human Be-In," Helms recruited Griffin to create posters for Family Dog concerts. Griffin worked for both the Family Dog and Bill Graham, frequently collaborating with other "Big Five" psychedelic artists. His work, often cartoonish in style, is characterized by the influence of the So-Cal surf scene as well as Native American designs and motifs.
Stanley Mouse & Alton Kelley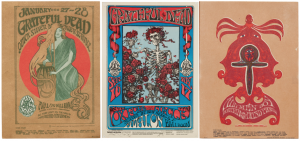 Maine-born Alton Kelley, a mechanic with a penchant for art, moved to San Francisco in 1964 and became one of the founding members of the commune that would eventually come to be known as the Family Dog Collective. Led by Helms, this group of musicians, artists, and poets put on some of the earliest, most interesting and successful rock concerts in San Francisco, later collaborating with Bill Graham for concerts at venues like the Fillmore and Avalon Ballroom. Kelley acted as art director, at first working mainly with Wes Wilson, who is often considered the father of the 1960s psychedelic concert poster. Stanley Mouse met Kelley when he relocated to California in 1966. Mouse already had a successful career as an artist airbrushing t-shirts at races and other car shows around his hometown of Detroit. Kelley enlisted Mouse to work for the Family Dog, thus beginning a very long partnership during which the two not only produced a staggering number of fabulous concert posters, but also created some of the most iconic images of the 1960s. Like their fellow psychedelic poster artists, Mouse and Kelley were inspired by Art Nouveau and Art Deco designs as well as Native American imagery and, most famously, a 19th century translation of a medieval Persian poet entitled "Rubáiyát of Omar Khayyám," from which they developed their celebrated "Skull & Roses" image for the Grateful Dead. Both Kelley and Mouse have had successful graphic design careers outside of Bill Graham and Family Dog posters. They have worked together and separately to create some of the greatest album art in rock and roll history, most notably for the Grateful Dead, Steve Miller Band, and Journey.
Bonnie MacLean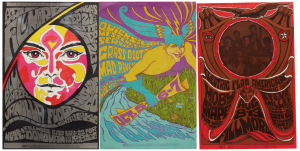 One of the few women to design poster art during this era was Bonnie MacLean, who created over thirty posters for Bill Graham's shows. MacLean was married to Graham at the time and after one of his best artists, Wes Wilson, quit over a dispute about his compensation MacLean took over. Initially creating posters meant to imitate Wilson's style, she quickly developed her own artistic sensibilities and created some of the most unique concert poster designs of the late 1960s. MacLean's work is marked by high contrasts, electric blues, vibrant pinks, and rich red tones.
Bill Graham Artists: Randy Tuten, Lee Conklin, David Singer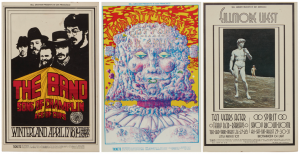 Inspired by Family Dog artists like Griffin, Kelley, and Mouse, Randy Tuten moved to San Francisco in 1967 to pursue his dream of being a poster artist. After his designs were repeatedly rejected by the Family Dog art studio, Tuten showed his work to Bill Graham who immediately commissioned four posters from the young artist. A frequent collaborator with other artists such as William Bostedt and Daddy Bread, Tuten had a more traditional advertising style often incorporating more legible photographic images into his designs. In the 1970s, after Graham closed the Fillmore West, Tuten became his in-house artist creating advertisements and posters for Graham into the 1980s.
Known for the somewhat strange and strongly graphic nature of his work, Lee Conklin began his artistic career as a cartoonist for his college newspaper. Later he was published a handful of times in the Los Angeles Free Press. In 1968, Conklin relocated to San Francisco and was immediately hired by Graham after showing the promoter his portfolio. With their uncanny surrealist style, Conklin's images somehow seem simultaneously on verge of growing cancerously outward and melting into themselves, making his designs stand out even during this period of unique psychedelic artwork.
David Singer's body of work, defined by its clean, color-conscious collage style, is immediately recognizable to collectors, as it should be — Singer created approximately 70 poster designs for Graham's concerts and shows. In 1969, at the encouragement of fellow artist Moscoso, Singer showed his artwork to Graham who initially commissioned 12 new posters from the artist. Working in a more subtle surreal style than some of his contemporaries, Singer was influenced by the dry landscapes of Max Ernest and the bizarre images created by René Magritte. The Art Nouveau and Art Deco influence is also immediately legible in Singer's distinctive fonts.

Witherell's Third Thursday Auction spotlight has featured other ephemeral cultural material before – including baseball cards, stamps, and fruit labels – and often what makes such items appealing to buyer's is the dual element of graphic design and history that such items immediately present to the viewer. Although I may be prejudiced by my aforementioned love for art and music, the handbills stand out because of the sophisticated way in which they integrate the different elements of art, music, and history. Each is a work of art carefully created by artists who were deeply inspired by each other as well as the rich and vibrant counter-culture they were surrounded by. But it is more than that. Each handbill is connected to a band, to the particular musicians who gathered together at a specific time in a certain place to take part in one of the many legendary concerts that occurred during an amazing period in America's cultural history. The late 1960s and early 1970s were a profoundly complicated time, but also a time of peace and love, reflection and transcendence, of community and individuality, and perhaps more than anything else a time of true hope and belief in the human experience. The handbills offer themselves as a colorful piece of that legacy.