Buffalo Brewing Company Calendar
The image of a bare-chested Indian maiden riding bare-back on a buffalo has long been an admired image for Western Americana aficionados. So much so that Brad and Brian Witherell used an adjusted version for their book "California's Best Old West Art and Antiques". They also did an appraisal of it on "Antiques Roadshow".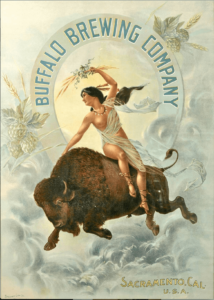 This is the first original example Witherell's has found since that show aired some 18 years ago. It is particularly exciting because it retains the original metal bars on the top and bottom, which helps with the authenticity. It is the only one we know of to survive with the metal tabs intact. It came to Witherell's through the downsizing of a local estate from a woman who purchased it when multiple, original copies were discovered in a Sacramento warehouse many years ago. We would guess that this was probably the most well-preserved example in that discovery. Because of its past sale history, we are estimating it is worth $15/25,000.
Cigar Store Indian
The first time Brian and his father, Brad, saw the Cigar Store Indian in their Western Design auction was at the "Antiques Roadshow" 15 years ago. Once they set eyes on it, they knew they wanted it. "It was one of those rare things you never forget because it speaks to you in a way that's extraordinary," said Brian Witherell. "The painted surface, the subject, the rarity was not easily forgotten."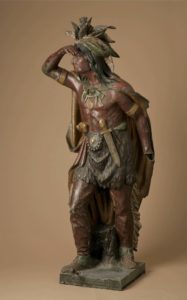 Made by William Demuth (1838-1911) for a cigar store in Boulder, CO, the life-size zinc statue depicts a white settler named "Captain Jack" who disguised himself as a Native America to revenge the death of his family in the French-Indian War. The historic piece resided with the family for three generations. When the owners passed away, Witherells was delighted to have the opportunity to auction it. Brian personally drove the 11 hours to Salt Lake City, where the heirs were, to pick it up. "Which is not something we normally do," said Witherell. "But when I saw it again, I didn't regret it." Despite the flaws, this spectacular, dramatic piece is in remarkable condition.
Zinc is much more fragile than wood, so fewer zinc Indians remain. In fact, this one is the only example Witherell's has been able to locate with an old surface still intact. Exhibited at the 1893 Columbian Exhibition in Chicago, the statue is accompanied by the original cigar store log-register with a handwritten notation from 1929 stating its value then. Because of its rarity, Witherell's is estimating it at $8/12,000.
Study for the Transcontinental Railroad
This study by John MacQuarrie depicts the construction of the Transcontinental Railroad for the Sacramento Valley Station, as it was originally known. Titled "Breaking ground at Sacramento Jan.8, 1863" it shows California's four big railroad backers: Charles Crocker, Collis Huntington, Leland Stanford and Mark Hopkins. Railroad engineer Theodore Judah stands to the side looking on.The background shows steamships and sail boats on the Sacramento River.

Painted between 1909 and 1941, this mural is one of nine studies made for murals that were later painted in Southern Pacific railroad depots from Utah to California, Arizona and Texas. Only two other studies are known. A spectacular example of an important event in American history, the framed 20.5"h by 76"w has been given an estimate of $3/5,000.It came from the estate of Herb Caplin, founder of Argus Antiquarian Book Store, Sacramento, Calif.